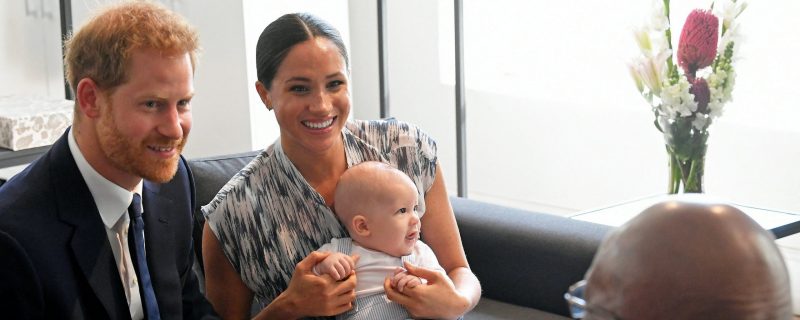 Prince Harry and Meghan Markle have filed a lawsuit in California accusing unnamed paparazzi photographers of taking 'illegal' drone pictures of their son Archie.

The lawsuit filed on Thursday alleges 'serial intrusions' into 14-month old Archie's privacy at the LA home where Harry and Meghan have been living since March.

The couple say they are taking legal action to protect Archie from a 'manufactured feeding frenzy' after claiming that the paparazzi had flown helicopters over their home and cut holes in a fence to take pictures.

They also accuse photographers of putting misleading captions on pictures of Archie in the back garden in order to suggest they were taken in a public place.

'The Duke and Duchess of Sussex are filing this lawsuit to protect their young son's right to privacy in their home without intrusion by photographers, and to uncover and stop those who seek to profit from these illegal actions,' their attorney said.

Meghan, Harry and one-year-old Archie have been staying at Hollywood producer Tyler Perry's $18 million mega-mansion in the exclusive neighborhood of Beverly Ridge since moving to LA in March.

In their lawsuit, they say they took considerable privacy measures at Tyler's mansion, including the erection of a large mesh fence around the property to guard against telephoto lenses.

But they can't protect against drones which are being flown 'a mere 20 feet above the house as often as three times a day'.

Helicopters have also flown over the residence as early as 5.30am and as late as 7pm, the legal papers allege, which had the effect of 'waking neighbours and their son, day after day'.

'Every individual and family member in California is guaranteed by law the right to privacy in their home. No drones, helicopters or telephoto lenses can take away that right,' said the couple's lawyer Michael Kump.

The duke and duchess say they expect to be followed when they go out in public but state that 'certain paparazzi and enablers have crossed a red line.'

Harry and Meghan's complaint accuses the paparazzi of 'intimidation, harassment and the addition of a very real security threat on top of what already exists'.

The lawsuit filed by Kump said some some media outlets flew helicopters above the home and photographers had even cut holes in their fence to snap pictures.

They said the behavior 'crossed a red line for any parent' by shopping pics of their son.

The couple seeks 'no special treatment' and is only seeking the right to be left alone in the privacy of their home as guaranteed under the laws of California, the lawsuit stated.

Harry and Meghan claim they have 'done everything in their power to stay out of the limelight' except in relation to their work, which they accept is newsworthy.

Harry and Meghan's suit also claims that the photographer trying to sell pictures of their son claimed they were taken in public, in Malibu.

But the couple have not been to the area, or in public with their son, since moving to LA and say the snapper is simply trying to hide the fact they have 'unsolicited photographs of a young child in the privacy of his own home' which are 'very much unlawful.'

They have also attempted to try and reduce the 'bounty' price of Archie photos by sharing pictures of him on social media.

Because Harry and Meghan do not know who took the pictures, the lawsuit targets unnamed defendants, which allows the couple to pursue anyone selling the images.

Harry blames press intrusion for the death of his mother Princess Diana in 1997 and last year alleged that Meghan was 'falling victim to the same powerful forces'.

A statement from Buckingham Palace after the 'Megxit' arrangements were finalised in January said that the couple had 'experienced challenges' as a result of 'intense scrutiny' since they married in 2018.
Source: Daily Mail