The Duchess of Sussex has lost the first round of her lawsuit against Associated Newspapers, agreeing to pay more than £67,000 in legal costs, it was revealed in court yesterday.

The news was revealed via a written submission from 22 July, in which the Duchess agreed to pay the fees after the High Court's Mr Justice Warby struck out parts of Meghan's claim in May, including allegations of 'deliberately stirring up' issues between her and her father.

Although the Duchess was not present for proceedings, her lawyers are fighting to prevent the naming of five of her friends, each of which spoke to People magazine about her relationship with her father, Thomas Markle.

Meghan is suing Mail on Sunday and MailOnline over five articles, including the publication of private letters sent to her father after the Royal Wedding in 2018, when he was forced to pull out of attending and walking her down the aisle due to staging photographs of himself for the paparazzi, as well as health issues connected to an operation on his heart. The Duchess is seeking damages from the newspaper for alleged misuse of private information, copyright infringement and breach of the Data Protection Act.

Associated Papers' lawyers argue that the cooperation of five of Meghan's friends with People magazine, which revealed details of the private correspondence, negates her suit. 'Information in the People interview about the claimant's relationship and dealings with her father, including the existence of the letter and a description of its contents and the claimant's father's letter in response, could only have come (directly or indirectly) from the claimant,' their lawyers said.

The People magazine article included a quote from one source which stated, 'She's like 'Dad, I'm so heartbroken. I love you. I have one father. Please stop victimising me through the media so we can repair our relationship.'

Associated Papers' lawyer Antony White QC told the court in a written submission, 'The friends are important potential witnesses on a key issue. Reporting these matters without referring to names would be a heavy curtailment of the media's and the defendant's entitlement to report this case and the public's right to know about it.

'No friend's oral evidence could be fully and properly reported because full reporting might identify her, especially as there has already been media speculation as to their identities.'

In a witness statement, Meghan said: 'Associated Newspapers, the owner of the Daily Mail and the Mail on Sunday, is threatening to publish the names of five women – five private citizens – who made a choice on their own to speak anonymously with a US media outlet more than a year ago, to defend me from the bullying behaviour of Britain's tabloid media.

'These five women are not on trial, and nor am I. The publisher of the Mail on Sunday is the one on trial. It is this publisher that acted unlawfully and is attempting to evade accountability; to create a circus and distract from the point of this case – that the Mail on Sunday unlawfully published my private letter.

'Each of these women is a private citizen, young mother, and each has a basic right to privacy.'

Mr Justice Warby ended the proceedings saying he would inform the Duchess of his decision in writing at a later date, adding that he was 'not going to make any predictions' over when that might be.
Source: Tatler
Prince Harry and Meghan Markle have formally axed their royal charitable foundation today in another symbolic split from the Royal family.

Documents filed at Companies House confirm they are winding up the company behind the Sussex Royal Foundation of the Duke and Duchess of Sussex.

The full details of the documents have not yet been revealed, but are expected to appear on the Companies House website in the next five days.

After announcing they were launching a new charity Archewell in the US back in April, the couple said they were 'looking forward' to getting started with the foundation, which will replace their Sussex Royal brand.

Harry and Meghan also revealed the Greek word in the project Arche – meaning source of action – was the inspiration behind the name of their son Archie Mountbatten-Windsor.

The final stage in Sussex Royal's closure begins amid the fallout from the Finding Freedom biography, which has exposed the resentment and mistrust that led to Harry and Meghan quitting as working royals.

The Companies House schedule reveals that three separate reports have been filed today – a special resolution to wind up the company, the appointment of a voluntary liquidator and a declaration of solvency.

A statement under each filing states: 'This document is being processed and will be available in 5 days'.

The move to dissolve the Foundation had not been unexpected and follows the Queen's decision that Harry and Meghan can no longer use the word 'royal' in their branding.

The Sussex foundation was only incorporated on July 1 last year following Meghan and Harry's decision to split from the foundation that they previously shared with the Duke and Duchess of Cambridge.

It has never filed accounts as it is a new company so the assets it holds have not been revealed.

Documents filed for the Sussex foundation on July 7 gave a new service address for Harry and Meghan at Buckingham Palace, following their decision to base themselves in Los Angeles.

It also emerged that an error at Companies House had meant that the prefix of Meghan's name was initially filed as 'Dr' even though she has never been a doctor. The error was quickly corrected after it was spotted.

Harry and Meghan have been reported to be planning to shift their emphasis on to helping other charitable endeavours and good causes such as their new Archewell foundation which still has to be properly launched.

They are also said to be keen on promoting Harry's eco-tourism scheme 'Travalyst'

The company – which has been set up independently – hopes to help the hard-hit tourism industry survive the coronavirus crisis and to promote more sustainable forms of travel and holidays.

It brings together some of the biggest operators in the travel industry – including Visa, Booking.com and Skyscanner – to help travellers pick low carbon options more easily and chose destinations that will have more benefit to local communities.

Responding to media reports back in April about Archewell, the duke and duchess said they were focusing their efforts on the coronavirus pandemic but felt 'compelled' to reveal details of the venture.

'Like you, our focus is on supporting efforts to tackle the global Covid-19 pandemic but faced with this information coming to light, we felt compelled to share the story of how this came to be.

'Before SussexRoyal, came the idea of Arche – the Greek word meaning source of action.

'We connected to this concept for the charitable organisation we hoped to build one day, and it became the inspiration for our son's name. To do something of meaning, to do something that matters.

'Archewell is a name that combines an ancient word for strength and action, and another that evokes the deep resources we each must draw upon.

'We look forward to launching Archewell when the time is right.'

The couple moved to Los Angeles with baby Archie to start their new life after they were forced to choose between financial independence or remaining as working members of the royal family.

Last week, Republic, which campaigns for an elected head of state, reported the Sussexes and the Cambridges' foundations to the Charity Commission for alleged 'inappropriate use of charitable funds, conflicts of interest and lack of independence'.

The claims were made after Sussex Royal received a six-figure grant from William and Kate's foundation.

Harry's fledgling not-for-profit sustainable travel organisation Travalyst also received funds from the Cambridges' foundation, and it has received the assets of Sussex Royal.

His lawyers are to formally write to Republic to contest its claims and said the duke's charity work was 'his life's focus' and the allegations were 'deeply offensive'.
Source: Daily Mail
Over the weekend, the first extracts of the Duke and Duchess of Sussex's forthcoming biography – Finding Freedom: Harry, Meghan, and the Making of a Modern Royal Family – were published, heightening the climate of anticipation that has been building around the book. Among the revealing insights disclosed in the biography is the whirlwind romance that constituted the early stages of the couple's relationship, including the fact that Harry was the first of the two to say, 'I love you.'

The latest extract, published by the Times and covered in the MailOnline, details the genesis of Prince Harry and Meghan's relationship, with the Times stating that 'What began with a mystery matchmaker rapidly turned into a secret romance.' Authors Omid Scobie and Carolyn Durand relate that the pair were set up on a blind date at Soho's Dean Street Townhouse in London, where they instantly felt a 'palpable attraction'.

Chatting over a beer (Harry) and martini (Meghan), the date went on for three hours, during which Harry talked about his philanthropy, with the pair bonding over a shared desire to want to 'make change for good'. Sources told Scobie and Durand Harry left in a 'trance' while Meghan quickly told her friends that 'this could have legs', with the couple said to have been 'immediately obsessed' with each other.

The pair were 'in their own little world' and quickly made plans to meet again – the very next night, in fact, at the same Soho House outpost. There they shared a discreet dinner, during which staff were said to have ushered them in via a staff entrance usually used for fish deliveries. The second date proved another success, with Harry subsequently telling friends that Meghan was 'ticking every box'. The couple initially kept the relationship under wraps, with a third date the following night involving Meghan being secretly taken to Kensington Palace. There, Harry sought to impress her with anecdotes about himself, telling friends that he'd been a 'little mad'.

As the romance continued to blossom, Harry asked Meghan on a trip abroad with him six weeks later. She flew in from Toronto to spend a night with the royal at Kensington Palace, before the pair flew to Johannesburg in South Africa the following morning. They then flew privately to Maun International Airport and travelled on to Okavango Delta, an inland river delta in northern Botswana renowned for its stunning wildlife, where they camped in luxury tents.

The trip was said to be such a success that the couple would have 'happily spent the entire summer there together'. A friend told the book's authors that Meghan 'came back smiling and just completely spellbound', having said of the trip: 'I've never felt that safe… that close to someone in such a short amount of time.' It soon became clear, added the friend, that 'they were each already dancing around the idea that this just may be a forever thing.' Within just three months of their first meeting, Harry told Meghan that he loved her. She is said to have been quick to reciprocate, replying: 'I love you, too'.

Although the pair sought to stay out of the spotlight, with Harry making under-the-radar trips to Toronto to visit his girlfriend, rumours began to circulate after royal security staff were spotted in Meghan's neighbourhood. When a tabloid broke the story of the relationship, Meghan was thrust into the news. The biography relates that in just 24 hours, she was contacted by former acquaintances she hadn't heard from in months or years, receiving over 100 messages. When a photographer waited for Meghan by her car in the hopes of securing a photo, she called the police, later saying to a friend: 'This is how it's always going to be, isn't it?'

In the wake of the relationship coming to light, Meghan was also subject to racist abuse on social media. Harry soon grew wary of those, even among his own circle, who expressed misgivings about whether Meghan was 'suitable' – leading him to wonder if this was motivated by racial or class biases. He soon felt compelled to make his public statement defending Meghan.

It was an episode that was to set the tone for much of the couple's relationship with the media, with Harry since having spoken out on multiple occasions against the unfair treatment of Meghan in the press and on digital platforms.
Source: Tatler
Finding Freedom, the new book about the Duke and Duchess of Sussex serialised this weekend in The Times and Sunday Times, lays bare the bitterness and the infighting that Harry and Meghan feel drove them to quit the royal family.

For the first time the full inside story is revealed about their battles with the Duke and Duchess of Cambridge and the senior courtiers from other households – the so-called "men in grey suits".

• Harry felt "unprotected" by his family and disparaged within palace walls for being "too sensitive and outspoken".

• He believed that some of the old guard "simply didn't like Meghan and would stop at nothing to make her life difficult".

• Senior courtiers in other households felt that the global popularity of the Duke and Duchess of Sussex "needed to be reined in".

• The royal "establishment" feared that the popularity of the Duke and Duchess of Sussex "might eclipse that of the royal family itself".

• The relationship between the Sussexes and the Cambridges reached such levels of frostiness that at their final engagement in March, the Commonwealth service at Westminster Abbey, the two couples barely spoke even though they had not seen each other since January. "Although Meghan tried to make eye contact with Kate, the duchess barely acknowledged her," the authors write.

• Meghan says: "I gave up my entire life for this family."

• Harry and Meghan felt there were few people in the other palaces they could trust not to leak stories to the media.

• A friend of the couple's referred to the old guard as 'the vipers', while a member of staff from another royal household described the Sussexes' team as 'the squeaky third wheel' of the palace.

• Meghan said tabloid criticism was like "death by a thousand cuts".

• The couple considered springing a surprise visit on the Queen when they were blocked from seeing her after their Canada trip.

• Harry and Meghan's decision to keep the royal family in the dark about key moves "created a lot of ill will".

• The Duke and Duchess of Cambridge were upset that private family matters were made public. "It's not anger," said a source. "It's hurt."
Source: The Times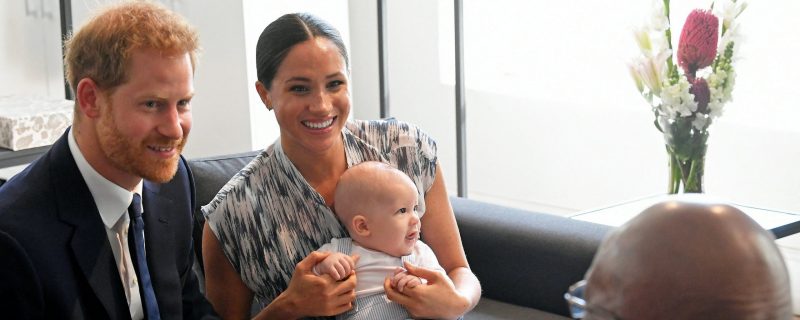 Prince Harry and Meghan Markle have filed a lawsuit in California accusing unnamed paparazzi photographers of taking 'illegal' drone pictures of their son Archie.

The lawsuit filed on Thursday alleges 'serial intrusions' into 14-month old Archie's privacy at the LA home where Harry and Meghan have been living since March.

The couple say they are taking legal action to protect Archie from a 'manufactured feeding frenzy' after claiming that the paparazzi had flown helicopters over their home and cut holes in a fence to take pictures.

They also accuse photographers of putting misleading captions on pictures of Archie in the back garden in order to suggest they were taken in a public place.

'The Duke and Duchess of Sussex are filing this lawsuit to protect their young son's right to privacy in their home without intrusion by photographers, and to uncover and stop those who seek to profit from these illegal actions,' their attorney said.

Meghan, Harry and one-year-old Archie have been staying at Hollywood producer Tyler Perry's $18 million mega-mansion in the exclusive neighborhood of Beverly Ridge since moving to LA in March.

In their lawsuit, they say they took considerable privacy measures at Tyler's mansion, including the erection of a large mesh fence around the property to guard against telephoto lenses.

But they can't protect against drones which are being flown 'a mere 20 feet above the house as often as three times a day'.

Helicopters have also flown over the residence as early as 5.30am and as late as 7pm, the legal papers allege, which had the effect of 'waking neighbours and their son, day after day'.

'Every individual and family member in California is guaranteed by law the right to privacy in their home. No drones, helicopters or telephoto lenses can take away that right,' said the couple's lawyer Michael Kump.

The duke and duchess say they expect to be followed when they go out in public but state that 'certain paparazzi and enablers have crossed a red line.'

Harry and Meghan's complaint accuses the paparazzi of 'intimidation, harassment and the addition of a very real security threat on top of what already exists'.

The lawsuit filed by Kump said some some media outlets flew helicopters above the home and photographers had even cut holes in their fence to snap pictures.

They said the behavior 'crossed a red line for any parent' by shopping pics of their son.

The couple seeks 'no special treatment' and is only seeking the right to be left alone in the privacy of their home as guaranteed under the laws of California, the lawsuit stated.

Harry and Meghan claim they have 'done everything in their power to stay out of the limelight' except in relation to their work, which they accept is newsworthy.

Harry and Meghan's suit also claims that the photographer trying to sell pictures of their son claimed they were taken in public, in Malibu.

But the couple have not been to the area, or in public with their son, since moving to LA and say the snapper is simply trying to hide the fact they have 'unsolicited photographs of a young child in the privacy of his own home' which are 'very much unlawful.'

They have also attempted to try and reduce the 'bounty' price of Archie photos by sharing pictures of him on social media.

Because Harry and Meghan do not know who took the pictures, the lawsuit targets unnamed defendants, which allows the couple to pursue anyone selling the images.

Harry blames press intrusion for the death of his mother Princess Diana in 1997 and last year alleged that Meghan was 'falling victim to the same powerful forces'.

A statement from Buckingham Palace after the 'Megxit' arrangements were finalised in January said that the couple had 'experienced challenges' as a result of 'intense scrutiny' since they married in 2018.
Source: Daily Mail
Hi Guys,
I have added 14 photos of Meghan & Prince Harry from last week. The couple were photographed on Friday 11th July while leaving an appointment in Beverly Hills. They both wore masks for the outing and dressed casually.
The Duchess of Sussex looked effortlessly chic in a cream linen dress by label Magic linen, which she wore with ballet pumps and a straw hat.
Candids 2020 | 11.07.20 – Leaving an appointment in Beverly Hills
Meghan Markle joined in this year's virtual Girl Up leadership summit to deliver a brief but inspired speech to young women everywhere. In her remarks, the Duchess of Sussex commended the young women on the change that they've already helped create and then encouraged them to keep going and pushing toward an equal world.
See below for her full speech – video & transcript:
"It's such a joy to speak to you today to young women around the world who aren't just poised to change the world but who have already begun changing the world. Last month, I had a chance to speak to the 2020 class at my high school alma mater which is an all-girls school in Los Angeles. And I said they shouldn't see their graduation as an ending but rather as a beginning, the beginning of a journey where they can harness their work, values, and skills—all the skills that they've learned—to rebuild the world around them.

Now many of you have already spent years embodying and yes, even enacting the change you've like to see in the world. The opportunity that lies ahead for you is the same one that those graduates and millions of young women around the world have as well. I want to share something with you: it's that those in the halls and corridors and places of power, from lawmakers to world leaders to executives, all of those people, they depend on you more than you will ever depend on them. And here's how I know this: But I know all of you at a younger age than any modern comparison are setting the tone for an equitable humanity—not figuratively, literally.

This is a humanity that desperately needs you to push it, to push us forcefully in a more inclusive, more just, and more empathetic direction and to not only frame the debate but to be in charge of the debate. Upraising justice on gender, climate change, mental health and well being, on civic engagement, on public service, on so much more, that's the work that you are already out there doing. Girl Up members are organizing Black Lives Matter protests around the world. You're creating films. You're creating films that encourage your peers to become activists leaders. You are reforming the criminal justice system. You are telling your school boards we need more mental health resources for all ages. You're leading coalitions to end gun violence. You are standing up and demanding to be heard, yes. You are also demanding to own the conversation.

Another thing about those lawmakers and leaders and executives that I mentioned earlier: Now many of them that are worse, they don't listen until they have to because the status quo is easy to excuse, and it's hard to break. But it will pull tightest right before snapping.

Women have always historically gotten a lot of "that's not how it's done," "yeah, that's a good idea but we're going to do this instead." But when do we hear that as women? We hear that in the moments that we challenge the norms. So if that's the case, I say to you, keep challenging. Keep pushing. Make them a little uncomfortable because it's only in that discomfort that we actually create the conditions to reimagine our standards, our policies, and our leadership—to move toward real representation and meaningful influence over the structures of decision-making and power.

Despite what some might say, this reimagining, it's not a zero-sum game where one side wins and one side loses. It's not at all. It is mutually beneficial and better for everyone. Because of that, that path to get us there will take all of us. It will take girls and women; it will take men and boys; it will take those that are Black and those that are white collectively tackling the inequities and structural problems that we know exist. I believe we are on the precipice of transformation.

We can accelerate the pace of change and you know what? We don't have to be satisfied with the current speed of progress. What's more, I think that it's really important to acknowledge the paradox of how this progress is both aided and impaired by our digital space. Your generation is often referred to as the digital natives. And you understand that our online world has the power to affirm and support as much as it does to harm. But we're not meant to be breaking each other down. We are meant to be building each other up. So use your voices both on- and off-line to do just that: Build each other up, support each other. There will always be negative voices. And sometimes those voices can appear on the outside and sometimes they can appear to be painfully loud but you can use your own voice to drown out that noise. Because that's what it is: It is just noise. But your voices are those of truth and hope, and your voices can and should be much louder.

I know you've already done [work] to make people's lives better. The moment we're living through now asks all of us to do more. It's a moment where your voices and your action have never been more urgently needed. And we can take inspiration from women like Prime Minister Jacinda Ardern who brought New Zealand together to swiftly and boldly tackle COVID-19. Or there's Maya Moore, the WNBA star who sat out from professional basketball since 2019 to free a man who served 25 years in prison for a crime he did not commit. And those were just two examples. As you well know, there are so many others.

Believing in true equality is not enough. It's going to take more than belief. We have to work for it everyday when it's hard, even when it makes others feel uneasy, we have to speak up for ourselves and we have to speak out for others who struggle to be heard. Like them, I know all of you will use your voices courageously, and I also know that all of you will use your voices compassionately. Now compassion doesn't mean we shouldn't feel outrage when we feel blatant injustice all around us. I mean, of course we should! But I challenge you to broaden that feeling. The Dalai Lama famously said, that "compassion is the radicalism of our time." Compassion means seeing the pain and suffering of others and knowing that it's our duty to help relieve it. Continue to believe in yourselves. Believe in what makes you unique and don't be afraid to do what you know is right even when it's not popular—even when it's never been done before or even if it scares people and even if it scares you a little.

Now under normal circumstances, we would've come together in person for this and I wish we could. Yet there's something interesting about each of you being in your own community right now because our communities are drop points of change. They are where your values and beliefs can be manifested and molded into something tangible. Look, sometimes it's not obvious what to do. And often it's fear that paralyzes us and stops us from being brave and being bold. But don't underestimate that you have some of those answers within. Don't underestimate your ability; push through the fear. You have rooted in your conditions the ability to craft a world that you know is just and kind. And your gut will tell you what's right and wrong, what's fair and what's unfair. The hardest part, and it was the hardest part for me, is to chase your convictions with action.

You look at the breadth of the issues we are facing right now, it is easy to get overwhelmed, I understand. So be where you are: The growth and the change that you're pursuing might not feel like anything on a day-to-day. But when you look back, I promise, you will see that it all adds up. We make better communities and a better world for ourselves step-by-step. And the pace of those steps is getting quicker. It's in looking at the aggregate, looking at the big picture, that you can see how far we've progressed. I am extraordinarily proud of what you've already accomplished. Please continue to honor the convictions and the compassion that's awoken within you. I will be cheering you on. So will my husband and so will Archie as you all continue marching, advocating and leading the way forward."
Sources: Mail Online & Elle US
One of Meghan Markle's first official public engagements, since she and her husband Prince Harry stepped down as senior working royals, has been announced.

The Duchess of Sussex will be a special guest at the three day 2020 Girl Up Leadership Summit, which is being conducted virtually this year from July 13 – 15.

The former actress joins an impressive roster of speakers including former First Lady Michelle Obama, Nobel Peace Prize laureate Nadia Murad and COO of Facebook Sheryl Sandberg.

Meghan will also be joined by her longtime friend Priyanka Chopra Jonas, who has been hailed as a 'changemaker' and is on the bill alongside The Good Place's Jameela Jamil and Euphoria's Storm Reid.

The summit connects empowering and inspirational women to future female leaders around the world.

Girl Up is a United Nations derived organisation, founded in 2010, focused on developing, mentoring and coaching adolescent girls around the world to become much-needed future leaders, to achieve gender equality around the world.

Since relocating to Los Angeles and cutting off their funding from the royal family, Meghan and Harry have continued with charity work while working on their new foundation Archewell, behind the scenes.

However, most of engagements and visits have not been announced in the typical way they would have when the couple were members of the royal family and carried out duties and engagements on behalf of the Queen. Instead, it's later been revealed on social media that Meghan and Harry paid a visit or delivered a speech to a particular organisation. Such was the case when Meghan gave a rousing virtual graduation speech on racism to her old high school or when the couple prepared food with former gang members and offenders at a rehabilitation charity Homeboy Industries in LA.
Source: Elle UK
Harry and Meghan take Hollywood: Archewell trademark application reportedly includes 'television shows' and 'motion picture films'.

With the Duke and Duchess of Sussex having left royal life behind them and settled in Meghan's former home of California, the stage seems set for the Duchess to make a return to the industry where she first became known. And new reports suggest that this might be just the couple's intention, as they have allegedly applied to trademark the name of their planned foundation, Archewell, for 'television shows' and 'motion picture films'.

According to Richard Eden for the Daily Mail, the Duke and Duchess have listed an extensive range of potential ventures in their application to the Intellectual Property Office in London, encompassing everything from 'digital entertainment content' to a platform 'featuring information in the field of nutrition, general health and mental health'.

An unnamed 'source close to the Sussexes' told Eden: 'Archewell is going to be huge. Harry and Meghan will use it to support lots of causes that they feel passionately about. It will be a global organisation with international ambitions.'

The name for the foundation stems from the Greek word arche, meaning sources of action, which also inspired the couple's decision to name their son Archie. The pair had formerly established the basis of a non-profit organisation named Sussex Royal, but were prohibited from using the word 'royal' after departing from official royal life at the end of March.

The ambitious plans for the new charitable foundation have, however, been put on hold amid the pandemic and the Black Lives Matter movement, with the couple having stipulated that they 'look forward to launching Archewell when the time is right.'

Before rising to international fame as a member of the British Royal Family, Meghan worked as an actress, becoming best known for the role on the American legal drama Suits. Since departing from official royal life, the Duchess has made some small forays back into the world of Hollywood, having narrated a Disney documentary about elephants.
Source: Tatler