Hello everyone,
Last week, the Duke & Duchess of Sussex made a rare public appearance when volunteering with a charity in Los Angeles.
On Wednesday 19th, Meghan & Harry, both wearing face coverings, distributed supplies, clothes and nappies at a drive-through run by local charity Baby2Baby, which provides basic necessities for families in need.





Appearances & Engagements 2020 | 19.08.20 – Volunteering with charity Baby2Baby
Meghan Markle will soon participate in a rare interview—with a twist. This time, she'll be the one asking the questions.

On August 14, the Duchess of Sussex will close out a virtual summit from The 19th*—a new nonprofit, nonpartisan newsroom focusing on gender and politics—with an interview with its cofounder and CEO Emily Ramshaw.

The event will mark the centennial of women's right to vote with a series of live-streamed conversations between prominent women in politics, civics, journalism, and the arts. The organization is named for the transformative amendment that granted women—but in practice, white women—the ballot. The asterisk serves as a visible reminder of the 19th amendment's unfinished business.

That kind of candor—about whom our democratic ideals have accommodated and whom those same values have failed to protect—seems to have drawn Markle's interest.

"The 19th*'s commitment to reporting and storytelling that lifts up those who are too often underrepresented in the media has never been more important," the duchess said in a statement to Glamour. "I'm looking forward to asking the cofounder what it means to build a media outlet with gender equity, diversity, and community at its core."

Ramshaw explains that "the duchess learned about The 19th* and its mission and reached out to us. She told us that our vision for The 19th*—building a truly diverse and representative newsroom that covers women with nuance—spoke to her immediately."

The summit—The 19th* Represents—will see journalists from the outlet sit down with some of the most influential women in America: three U.S. senators (including potential vice presidential candidate Kamala Harris), several congresswomen and congressional candidates, Melinda Gates, Hillary Clinton, and Stacey Abrams. It will also feature none other than Meryl Streep.

But even in that group, the duchess is a standout. Since stepping back from her duties as a senior royal in March and moving stateside, she has made just a handful of public appearances. And next week's event will be a first—an interview, with Markle holding the proverbial cards and Ramshaw in the hot seat.

"I would call it a surreal experience for me," Ramshaw says, laughing. The 19th* went live less than a week ago. The summit itself is the culmination of months of intense work. In no universe was the active participation of Meghan Markle on Ramshaw's vision board.

The session will focus on what motivated Ramshaw—a former executive editor of the Texas Tribune—to launch her new venture and how The 19th* intends to approach its work. According to the official description of the conversation, Ramshaw will be asked about "creating a transformative newsroom centered on gender equity."

In conceiving of the summit, Ramshaw and the team intended to "bring together the women who are changing the game." She wanted to hear from women who were at the forefront—whatever the cause. That meant enticing Abrams to talk about voting rights and getting Gates, who has been leading an international conversation about vaccines for decades, to take stock of where we are in the pandemic.

But while there can be no doubt that Markle—an American actor and proud feminist who married into one of the most traditional, conservative families on the planet—has changed the game, it was never Ramshaw's intention to land a duchess for the summit, nor did she expect that she herself would feature in the lineup.

In general, Ramshaw likes to ask the questions—not answer them. But not this time. "It feels vulnerable, but also important," she explains. "Journalism is a critical piece of the democratic equation. We should ask questions about it. So we're looking forward to rounding out the week with this chance to talk about the mission of the 19th*, and I'm supremely excited to get to do that with someone who believes deeply in gender equity and racial justice and high-quality journalism."

Ramshaw—consummate reporter—has guarded the news of the duchess's involvement until now. With one notable exception: She couldn't resist letting her daughter in on the secret. Putting the revelation in preschool terms, Ramshaw told her that she was going to meet a princess. The news did indeed impress Ramshaw's daughter, who is four; it also risked a leak.

For the past six months, Ramshaw has angled Zooms to make sure her daughter is just out of the frame in calls with investors. She has structured meetings around nap time. While she is the first to allow that as "a white woman of privilege," she's found the pandemic far easier to cope with than many other women, it hasn't been simple to get a startup up and running under lockdown while parenting.

Just as Ramshaw was gearing up for the site's debut, she and her husband made the decision to send their daughter back to day care "because we couldn't get across the finish line with her at home," Ramshaw says. "So she walks straight in, bursts into the room, and declares, 'My mommy is going to talk to a princess!' Thank God no one believed her."

The 19th* Represents is free to attend online, and those interested in watching Meghan flex her Oprah interviewer skills can register here. Her session will stream at approximately 4:30 p.m. ET on Friday, August 14.
Source: Glamour
We have a new addition to The #19thRepresents virtual summit — Meghan, The Duchess of Sussex.

The Duchess will join us on our final day of programming, Friday, Aug. 14, for a conversation with our co-founder and CEO, @eramshaw.

Register to attend: https://t.co/tgg6yu2YTX pic.twitter.com/6IVGl4IUJM

— 19thnews (@19thnews) August 6, 2020
Home sweet house party! Prince Harry planned a low-key celebration for his wife Meghan Markle's 39th birthday at their Los Angeles residence, a source exclusively tells Us Weekly. Meghan's mother, Doria Ragland, and the couple's 14-month-old son, Archie, were both in attendance.

"They spent the day as a family and in the evening Doria looked after Archie so that Meghan and Harry could enjoy some couple time," the insider said of the Tuesday, August 4, festivities. "Harry cooked Meghan a three-course dinner, but Doria helped him with the preparation."

The source adds: "While Harry has become a better cook since marrying Meghan, he still has a long way to go!"

The former military pilot, 35, "organized a huge chocolate birthday cake, covered in icing sugar and balloons" to make sure Meghan's big day was one to remember.

When it came to her present, Harry went for something both unique and sentimental.

"He wanted the gift to be personal, so he surprised Meghan with a necklace that he designed," the insider tells Us. "And a framed photograph of the two of them, which he took himself."

For her part, the California native "wanted to keep it small and intimate" this year, but the source says Meghan plans to throw a "big, glamourous birthday party with all her friends for her 40th next year."

While the family honored Meghan in L.A., some of her royal relatives sent well wishes from England to commemorate the milestone.

"🎈Wishing The Duchess of Sussex a very happy birthday!" the royal family's official Instagram account wrote alongside a photo of the queen and Suits alum in 2018.
Source: US Weekly
The Duchess of Sussex has lost the first round of her lawsuit against Associated Newspapers, agreeing to pay more than £67,000 in legal costs, it was revealed in court yesterday.

The news was revealed via a written submission from 22 July, in which the Duchess agreed to pay the fees after the High Court's Mr Justice Warby struck out parts of Meghan's claim in May, including allegations of 'deliberately stirring up' issues between her and her father.

Although the Duchess was not present for proceedings, her lawyers are fighting to prevent the naming of five of her friends, each of which spoke to People magazine about her relationship with her father, Thomas Markle.

Meghan is suing Mail on Sunday and MailOnline over five articles, including the publication of private letters sent to her father after the Royal Wedding in 2018, when he was forced to pull out of attending and walking her down the aisle due to staging photographs of himself for the paparazzi, as well as health issues connected to an operation on his heart. The Duchess is seeking damages from the newspaper for alleged misuse of private information, copyright infringement and breach of the Data Protection Act.

Associated Papers' lawyers argue that the cooperation of five of Meghan's friends with People magazine, which revealed details of the private correspondence, negates her suit. 'Information in the People interview about the claimant's relationship and dealings with her father, including the existence of the letter and a description of its contents and the claimant's father's letter in response, could only have come (directly or indirectly) from the claimant,' their lawyers said.

The People magazine article included a quote from one source which stated, 'She's like 'Dad, I'm so heartbroken. I love you. I have one father. Please stop victimising me through the media so we can repair our relationship.'

Associated Papers' lawyer Antony White QC told the court in a written submission, 'The friends are important potential witnesses on a key issue. Reporting these matters without referring to names would be a heavy curtailment of the media's and the defendant's entitlement to report this case and the public's right to know about it.

'No friend's oral evidence could be fully and properly reported because full reporting might identify her, especially as there has already been media speculation as to their identities.'

In a witness statement, Meghan said: 'Associated Newspapers, the owner of the Daily Mail and the Mail on Sunday, is threatening to publish the names of five women – five private citizens – who made a choice on their own to speak anonymously with a US media outlet more than a year ago, to defend me from the bullying behaviour of Britain's tabloid media.

'These five women are not on trial, and nor am I. The publisher of the Mail on Sunday is the one on trial. It is this publisher that acted unlawfully and is attempting to evade accountability; to create a circus and distract from the point of this case – that the Mail on Sunday unlawfully published my private letter.

'Each of these women is a private citizen, young mother, and each has a basic right to privacy.'

Mr Justice Warby ended the proceedings saying he would inform the Duchess of his decision in writing at a later date, adding that he was 'not going to make any predictions' over when that might be.
Source: Tatler
Prince Harry and Meghan Markle have formally axed their royal charitable foundation today in another symbolic split from the Royal family.

Documents filed at Companies House confirm they are winding up the company behind the Sussex Royal Foundation of the Duke and Duchess of Sussex.

The full details of the documents have not yet been revealed, but are expected to appear on the Companies House website in the next five days.

After announcing they were launching a new charity Archewell in the US back in April, the couple said they were 'looking forward' to getting started with the foundation, which will replace their Sussex Royal brand.

Harry and Meghan also revealed the Greek word in the project Arche – meaning source of action – was the inspiration behind the name of their son Archie Mountbatten-Windsor.

The final stage in Sussex Royal's closure begins amid the fallout from the Finding Freedom biography, which has exposed the resentment and mistrust that led to Harry and Meghan quitting as working royals.

The Companies House schedule reveals that three separate reports have been filed today – a special resolution to wind up the company, the appointment of a voluntary liquidator and a declaration of solvency.

A statement under each filing states: 'This document is being processed and will be available in 5 days'.

The move to dissolve the Foundation had not been unexpected and follows the Queen's decision that Harry and Meghan can no longer use the word 'royal' in their branding.

The Sussex foundation was only incorporated on July 1 last year following Meghan and Harry's decision to split from the foundation that they previously shared with the Duke and Duchess of Cambridge.

It has never filed accounts as it is a new company so the assets it holds have not been revealed.

Documents filed for the Sussex foundation on July 7 gave a new service address for Harry and Meghan at Buckingham Palace, following their decision to base themselves in Los Angeles.

It also emerged that an error at Companies House had meant that the prefix of Meghan's name was initially filed as 'Dr' even though she has never been a doctor. The error was quickly corrected after it was spotted.

Harry and Meghan have been reported to be planning to shift their emphasis on to helping other charitable endeavours and good causes such as their new Archewell foundation which still has to be properly launched.

They are also said to be keen on promoting Harry's eco-tourism scheme 'Travalyst'

The company – which has been set up independently – hopes to help the hard-hit tourism industry survive the coronavirus crisis and to promote more sustainable forms of travel and holidays.

It brings together some of the biggest operators in the travel industry – including Visa, Booking.com and Skyscanner – to help travellers pick low carbon options more easily and chose destinations that will have more benefit to local communities.

Responding to media reports back in April about Archewell, the duke and duchess said they were focusing their efforts on the coronavirus pandemic but felt 'compelled' to reveal details of the venture.

'Like you, our focus is on supporting efforts to tackle the global Covid-19 pandemic but faced with this information coming to light, we felt compelled to share the story of how this came to be.

'Before SussexRoyal, came the idea of Arche – the Greek word meaning source of action.

'We connected to this concept for the charitable organisation we hoped to build one day, and it became the inspiration for our son's name. To do something of meaning, to do something that matters.

'Archewell is a name that combines an ancient word for strength and action, and another that evokes the deep resources we each must draw upon.

'We look forward to launching Archewell when the time is right.'

The couple moved to Los Angeles with baby Archie to start their new life after they were forced to choose between financial independence or remaining as working members of the royal family.

Last week, Republic, which campaigns for an elected head of state, reported the Sussexes and the Cambridges' foundations to the Charity Commission for alleged 'inappropriate use of charitable funds, conflicts of interest and lack of independence'.

The claims were made after Sussex Royal received a six-figure grant from William and Kate's foundation.

Harry's fledgling not-for-profit sustainable travel organisation Travalyst also received funds from the Cambridges' foundation, and it has received the assets of Sussex Royal.

His lawyers are to formally write to Republic to contest its claims and said the duke's charity work was 'his life's focus' and the allegations were 'deeply offensive'.
Source: Daily Mail
Over the weekend, the first extracts of the Duke and Duchess of Sussex's forthcoming biography – Finding Freedom: Harry, Meghan, and the Making of a Modern Royal Family – were published, heightening the climate of anticipation that has been building around the book. Among the revealing insights disclosed in the biography is the whirlwind romance that constituted the early stages of the couple's relationship, including the fact that Harry was the first of the two to say, 'I love you.'

The latest extract, published by the Times and covered in the MailOnline, details the genesis of Prince Harry and Meghan's relationship, with the Times stating that 'What began with a mystery matchmaker rapidly turned into a secret romance.' Authors Omid Scobie and Carolyn Durand relate that the pair were set up on a blind date at Soho's Dean Street Townhouse in London, where they instantly felt a 'palpable attraction'.

Chatting over a beer (Harry) and martini (Meghan), the date went on for three hours, during which Harry talked about his philanthropy, with the pair bonding over a shared desire to want to 'make change for good'. Sources told Scobie and Durand Harry left in a 'trance' while Meghan quickly told her friends that 'this could have legs', with the couple said to have been 'immediately obsessed' with each other.

The pair were 'in their own little world' and quickly made plans to meet again – the very next night, in fact, at the same Soho House outpost. There they shared a discreet dinner, during which staff were said to have ushered them in via a staff entrance usually used for fish deliveries. The second date proved another success, with Harry subsequently telling friends that Meghan was 'ticking every box'. The couple initially kept the relationship under wraps, with a third date the following night involving Meghan being secretly taken to Kensington Palace. There, Harry sought to impress her with anecdotes about himself, telling friends that he'd been a 'little mad'.

As the romance continued to blossom, Harry asked Meghan on a trip abroad with him six weeks later. She flew in from Toronto to spend a night with the royal at Kensington Palace, before the pair flew to Johannesburg in South Africa the following morning. They then flew privately to Maun International Airport and travelled on to Okavango Delta, an inland river delta in northern Botswana renowned for its stunning wildlife, where they camped in luxury tents.

The trip was said to be such a success that the couple would have 'happily spent the entire summer there together'. A friend told the book's authors that Meghan 'came back smiling and just completely spellbound', having said of the trip: 'I've never felt that safe… that close to someone in such a short amount of time.' It soon became clear, added the friend, that 'they were each already dancing around the idea that this just may be a forever thing.' Within just three months of their first meeting, Harry told Meghan that he loved her. She is said to have been quick to reciprocate, replying: 'I love you, too'.

Although the pair sought to stay out of the spotlight, with Harry making under-the-radar trips to Toronto to visit his girlfriend, rumours began to circulate after royal security staff were spotted in Meghan's neighbourhood. When a tabloid broke the story of the relationship, Meghan was thrust into the news. The biography relates that in just 24 hours, she was contacted by former acquaintances she hadn't heard from in months or years, receiving over 100 messages. When a photographer waited for Meghan by her car in the hopes of securing a photo, she called the police, later saying to a friend: 'This is how it's always going to be, isn't it?'

In the wake of the relationship coming to light, Meghan was also subject to racist abuse on social media. Harry soon grew wary of those, even among his own circle, who expressed misgivings about whether Meghan was 'suitable' – leading him to wonder if this was motivated by racial or class biases. He soon felt compelled to make his public statement defending Meghan.

It was an episode that was to set the tone for much of the couple's relationship with the media, with Harry since having spoken out on multiple occasions against the unfair treatment of Meghan in the press and on digital platforms.
Source: Tatler
Finding Freedom, the new book about the Duke and Duchess of Sussex serialised this weekend in The Times and Sunday Times, lays bare the bitterness and the infighting that Harry and Meghan feel drove them to quit the royal family.

For the first time the full inside story is revealed about their battles with the Duke and Duchess of Cambridge and the senior courtiers from other households – the so-called "men in grey suits".

• Harry felt "unprotected" by his family and disparaged within palace walls for being "too sensitive and outspoken".

• He believed that some of the old guard "simply didn't like Meghan and would stop at nothing to make her life difficult".

• Senior courtiers in other households felt that the global popularity of the Duke and Duchess of Sussex "needed to be reined in".

• The royal "establishment" feared that the popularity of the Duke and Duchess of Sussex "might eclipse that of the royal family itself".

• The relationship between the Sussexes and the Cambridges reached such levels of frostiness that at their final engagement in March, the Commonwealth service at Westminster Abbey, the two couples barely spoke even though they had not seen each other since January. "Although Meghan tried to make eye contact with Kate, the duchess barely acknowledged her," the authors write.

• Meghan says: "I gave up my entire life for this family."

• Harry and Meghan felt there were few people in the other palaces they could trust not to leak stories to the media.

• A friend of the couple's referred to the old guard as 'the vipers', while a member of staff from another royal household described the Sussexes' team as 'the squeaky third wheel' of the palace.

• Meghan said tabloid criticism was like "death by a thousand cuts".

• The couple considered springing a surprise visit on the Queen when they were blocked from seeing her after their Canada trip.

• Harry and Meghan's decision to keep the royal family in the dark about key moves "created a lot of ill will".

• The Duke and Duchess of Cambridge were upset that private family matters were made public. "It's not anger," said a source. "It's hurt."
Source: The Times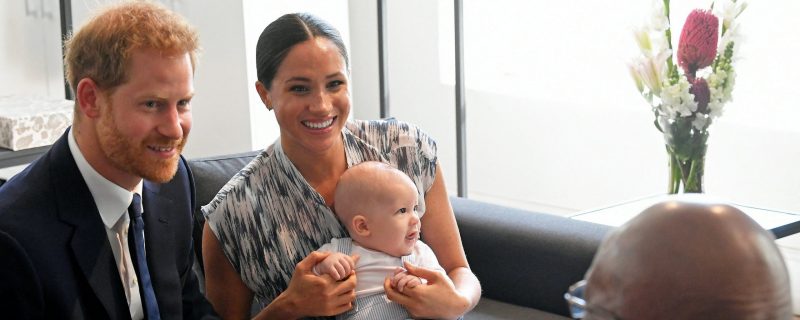 Prince Harry and Meghan Markle have filed a lawsuit in California accusing unnamed paparazzi photographers of taking 'illegal' drone pictures of their son Archie.

The lawsuit filed on Thursday alleges 'serial intrusions' into 14-month old Archie's privacy at the LA home where Harry and Meghan have been living since March.

The couple say they are taking legal action to protect Archie from a 'manufactured feeding frenzy' after claiming that the paparazzi had flown helicopters over their home and cut holes in a fence to take pictures.

They also accuse photographers of putting misleading captions on pictures of Archie in the back garden in order to suggest they were taken in a public place.

'The Duke and Duchess of Sussex are filing this lawsuit to protect their young son's right to privacy in their home without intrusion by photographers, and to uncover and stop those who seek to profit from these illegal actions,' their attorney said.

Meghan, Harry and one-year-old Archie have been staying at Hollywood producer Tyler Perry's $18 million mega-mansion in the exclusive neighborhood of Beverly Ridge since moving to LA in March.

In their lawsuit, they say they took considerable privacy measures at Tyler's mansion, including the erection of a large mesh fence around the property to guard against telephoto lenses.

But they can't protect against drones which are being flown 'a mere 20 feet above the house as often as three times a day'.

Helicopters have also flown over the residence as early as 5.30am and as late as 7pm, the legal papers allege, which had the effect of 'waking neighbours and their son, day after day'.

'Every individual and family member in California is guaranteed by law the right to privacy in their home. No drones, helicopters or telephoto lenses can take away that right,' said the couple's lawyer Michael Kump.

The duke and duchess say they expect to be followed when they go out in public but state that 'certain paparazzi and enablers have crossed a red line.'

Harry and Meghan's complaint accuses the paparazzi of 'intimidation, harassment and the addition of a very real security threat on top of what already exists'.

The lawsuit filed by Kump said some some media outlets flew helicopters above the home and photographers had even cut holes in their fence to snap pictures.

They said the behavior 'crossed a red line for any parent' by shopping pics of their son.

The couple seeks 'no special treatment' and is only seeking the right to be left alone in the privacy of their home as guaranteed under the laws of California, the lawsuit stated.

Harry and Meghan claim they have 'done everything in their power to stay out of the limelight' except in relation to their work, which they accept is newsworthy.

Harry and Meghan's suit also claims that the photographer trying to sell pictures of their son claimed they were taken in public, in Malibu.

But the couple have not been to the area, or in public with their son, since moving to LA and say the snapper is simply trying to hide the fact they have 'unsolicited photographs of a young child in the privacy of his own home' which are 'very much unlawful.'

They have also attempted to try and reduce the 'bounty' price of Archie photos by sharing pictures of him on social media.

Because Harry and Meghan do not know who took the pictures, the lawsuit targets unnamed defendants, which allows the couple to pursue anyone selling the images.

Harry blames press intrusion for the death of his mother Princess Diana in 1997 and last year alleged that Meghan was 'falling victim to the same powerful forces'.

A statement from Buckingham Palace after the 'Megxit' arrangements were finalised in January said that the couple had 'experienced challenges' as a result of 'intense scrutiny' since they married in 2018.
Source: Daily Mail
Hi Guys,
I have added 14 photos of Meghan & Prince Harry from last week. The couple were photographed on Friday 11th July while leaving an appointment in Beverly Hills. They both wore masks for the outing and dressed casually.
The Duchess of Sussex looked effortlessly chic in a cream linen dress by label Magic linen, which she wore with ballet pumps and a straw hat.
Candids 2020 | 11.07.20 – Leaving an appointment in Beverly Hills